We provide Software as a Service (SaaS) products help protect clients from high eDiscovery costs, regulatory fines, lawsuits and employee turnover by flagging questionable content and securely archiving digital communications.
A history of trust and compliance
MessageWatcher launched in 2004 with the goal of providing an inexpensive, easy-to-use and fully compliant archiving and monitoring software solution. Since then, we've stayed true to our initial vision while expanding our platform offerings to support evolving communication needs.
Learn more about our products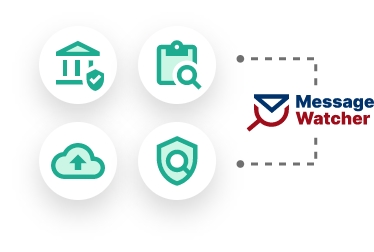 Providing powerful industry solutions
We provide solutions to industries that have rigorous compliance requirements, including: manufacturers, construction companies, broker-dealers, insurance companies, investment advisors and more.
Learn more about our solutions
Trusted by regulated industries
Secure, local infrastructure and support
To provide the best in uptime and security, our services are hosted at redundant enterprise data centers in the USA. Our solutions are fully compliant with industry standards such as SSAE, SOC, PCI DSS and HIPAA.
We care about our customers, employees and the communities we serve
We're proud to help customers enhance Environmental, Social and Governance (ESG) initiatives and we also partner with Onyx Advisor Network to help serve underrepresented segments of our population. To help give back, we offer employees additional time off for volunteer work.
Learn more about MessageWatcher's compliance solutions
Facebook®, Instagram®, LinkedIn®, Twitter®, YouTube®, Bloomberg®, Zoom®, RingCentral®, Microsoft®, Microsoft Teams®, Slack®, and Salesforce® are all registered trademarks of their respective entities.
MessageWatcher archiving complies with all the above companies' terms, conditions, and related policies.